기초실험장비
분석/여과/측정
유리기구
플라스틱기구
실험소모품/비품/기구
생명과학
안전보호/실험가구
사무/일반/생활
교육기자재
공구/포장
시약/화학
헬스케어/의료
제품설명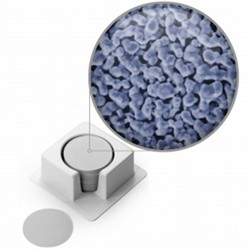 Silver Membrane Filter / 실버 멤브레인 필터
· 대표판매가

1,004,000

원

·

공 급 원

Sterlitech

·

판 매 처

·

연 락 처

02-1661-4544

· 리 드 타 임

재고/예정재고가 없을시 약 2020-04-17일 납품가능 합니다.

· 옵 션 보 기

·

관련컨텐츠
상세정보
​​
​Silver Membrane Filter /
실버 멤브레인 필터
​
​
​Silver metal membrane filters are used in a variety of filtration applications, and their ability to withstand
extreme chemical and thermal stress makes them ideal laboratory filtration equipment for applications
involving aggressive fluids and/or high temperatures. Silver metal filter membranes are pure metallic silver
(99.97% pure silver) and are available with particle retention ratings of 0.2 to 5.0 microns. These silver metal
membrane disc filters and sheets are specified in a National Institute for Occupational Safety and Health
(NIOSH) standard for the analysis of crystalline and amorphous silica, lead sulfide, boron carbide, and chrystotile
asbestos. Sterlitech's silver metal membranes can be used as the collection media and subsequent x-ray
​diffraction substrate for quantifying unknown minerals and compounds.
​
​
​
​
​
​
Applications
​
​
1. Analytical
​
• X-ray diffraction (XRD); silver metal membranes make excellent substrates
for XRD analysis - silver purity 99.97% -smooth surface, grayish-white color;
highly reflective surface; absolute surface retention; low background noise;
​distinct diffraction peaks.
• Scanning Electron Microscopy (EM); smooth; electrically conductive;
extremely thin membrane 50 µm; easy sample preparation.​
​
2. Gas
​
• Air-borne contaminants - National Institute for Occupational Safety and Health
(NIOSH) - used for industrial hygiene in foundries, glass plants, quarries, mines,
ceramic manufacturing - Methods using 0.45 µm, 25 mm: 
*N6011 (Bromine and Chlorine)  *N7500 (Silica, Crystalline)  *N7501 (Silica, Amorphous)
*OSHA ID142 (Quartz and Cristobalite in Workplace Atmospheres)  *N7504 (Vanadium Oxide)
*N7505 (Lead Sulfide)  *N7506 (Boron Carbide)  *N9000 (Asbestos, Crysotile)
• Respirable Combustible Dust (RCD) sampling and analysis - 0.8 µm, 25 mm, mines
- measurement of diesel particulate matter, evaporated hydraulic fluids, fuel oils, and
compressed air lubricants by weighing and ashing.
​• Dopant gases for semiconductor manufacturing.
• Steam, or air sterilization, autoclavable
• Venting, high temperatures
3. Liquid
​
• Clarification (3.0-5.0 µm); Polishing (1.2 µm); Sterilization (0.2-0.8 µm)
• Intrinsically Bacteriostatic - Silver does not allow the growth of bacteria and other microorganisms.
• High-Performance Liquid Chromatography (HPLC) for a clearer; steadier baseline

- may rule out interference from other sources of HPLC solvents
(0.2, 0.45, and 0.8 &micor;m); tolerates high temperatures; gases and
aggressive liquids -- Tetrahydrofuran (THF)
​
​
4. Viscous Fluid
​
• Organic Carbon, inorganic, and suspended-sediment water - 0.45 µm,
47 mm, used by U.S. Geological Survey (USGS)
• Lubrication oils for servomechanisms and precision instruments
• Direct-line Applications with a Sprayer
• High-purity fluids in semiconductor applications
​
​
​
5. Other Industrial
​
• Chlorine Monitoring - Pulp and Paper Industry, disinfection; removal
of tin and zinc in iron; chlorinating hydrocarbons; manufacturing synthetic
 rubber, plastics, pesticides, refrigerants; treating water and sewage
• Electronics Industry - filter coolants, cleaning fluids, sterile air
• Aircraft/Missile Fuels; critical fluids - resists alcohols, fuels, hydrocarbons,
polyaromatic hydrocarbons (PAH), oils, alkalies, ethers
• OSHA - coal tar pitch volatiles, 0.8 µm, 47 mm and 37 mm
• Cold Sterilization (beverages, beer) - absolute particle-retention due to precise pore size
• Soil and clay analysis
• Fly Ash Sampling; Energy Research and Development Agency (ERDA)
• Bacteria Sampling
​
​

​
배송/반품/교환 안내